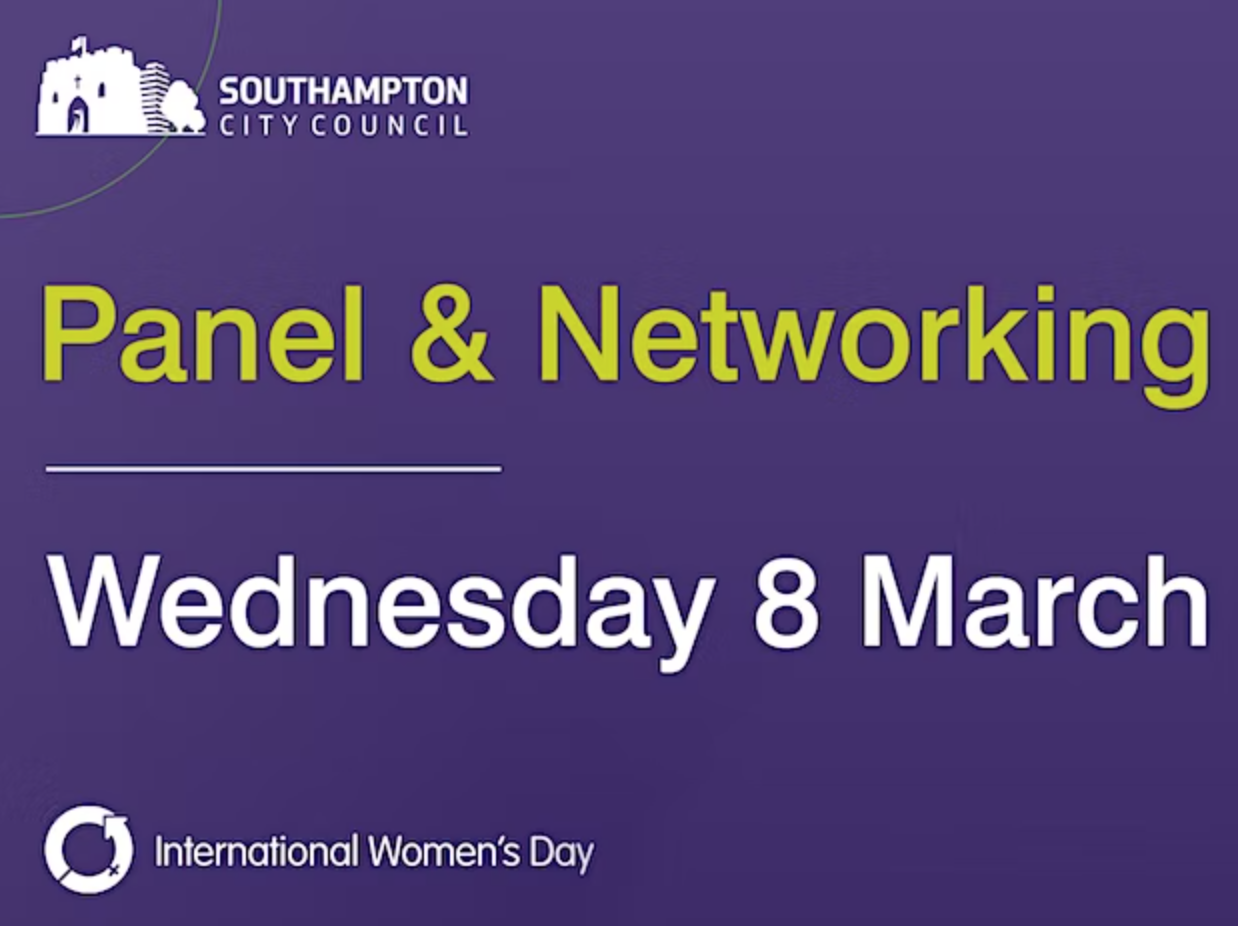 International Women's Day (8 March) is a global day celebrating the social, economic, cultural, and political achievements of women. The day also marks a call to action for accelerating women's equality. The theme for International Women's Day for 2023 is #EmbraceEquity.
Leader of the Council Councillor Satvir Kaur, and the Right Worshipful Lord Mayor of Southampton, Councillor Jacqui Rayment will be marking the day by hosting an event with an inspiring panel of speakers to celebrate International Women's Day. The hybrid event will take place in the Mayors Reception Room on Wednesday 8 March from 6:30pm and is an opportunity to hear from, and network with women working and living across the city.
In addition, the International Women's Day flag will be flown at the front of the Civic Centre as the council pledges to #EmbraceEquity both on International Women's Day and beyond.
Guest speakers include
Southampton-born former broadcast journalist Veronica Gordon who has combined experience working across radio, TV news, and digital media with her fifteen years of community activism to create Our Version Media CIC.
Lady Edwina Grosvenor, the High Sheriff of Hampshire, who is the founder and Chair of One Small Thing, an organisation that aims to redesign the justice system for women and their children.
Rebecca Leppard, a mother of three who founded Upgrading Women to help other women climb the career ladder because she believes that the world needs more voices like hers – women of colour, immigrants, parents, and entrepreneurs.
Plus, more speakers will empower and inspire attendees. A full list of guest speakers can be found on the event page.
Due to capacity limitations, tickets to attend the event are limited. For those that want to attend virtually, please sign up via MS Teams can sign up online.
Councillor Satvir Kaur, Leader of Southampton City Council said:
"International Women's Day is something I look forward to every year. It's a brilliant opportunity to come together and celebrate incredible women who are doing extraordinary things to help make our city the great place it is. Despite huge strides in gender equality, we all know there is so much more we can do.
As the first female Sikh Leader in the Country, the global theme of International Women's Day this year, Embracing Equity, is something I feel passionately about. We have an incredible line up of speakers, and I look forward to bringing together women from across Southampton, of all ages and backgrounds, to hear inspirational stories and meet fantastic local women."
As well as the council's networking and speaker event there are also plenty of other city organisations marking the day.
————————————————————————————————————————————–
The University of Southampton are holding an online lecture on Tuesday 7 March on Helping women access better healthcare with Dr Kizanne James-McCarthy. Winner of the 2022 Alumni Rising Star Award, Kizanne is a women's rights and health activist and a physician with a passion for global health. Hosted by Professor Julie Cullen from the School of Health Sciences, this event will include an audience Q&A where you'll have the opportunity to ask questions.
Collaboration360 are hosting a Strong Female Lead Conference on Wednesday 8 March. Line up of inspiring women speaking to share their personal journeys and inspire the next generation of females, within the science, technology, arts, web development and property and construction sectors.
Southampton Solent University Students' Union are hosting a Reclaim The Night March through Southampton parks as well as talks and speeches from guest speakers on female empowerment and safety.
Author