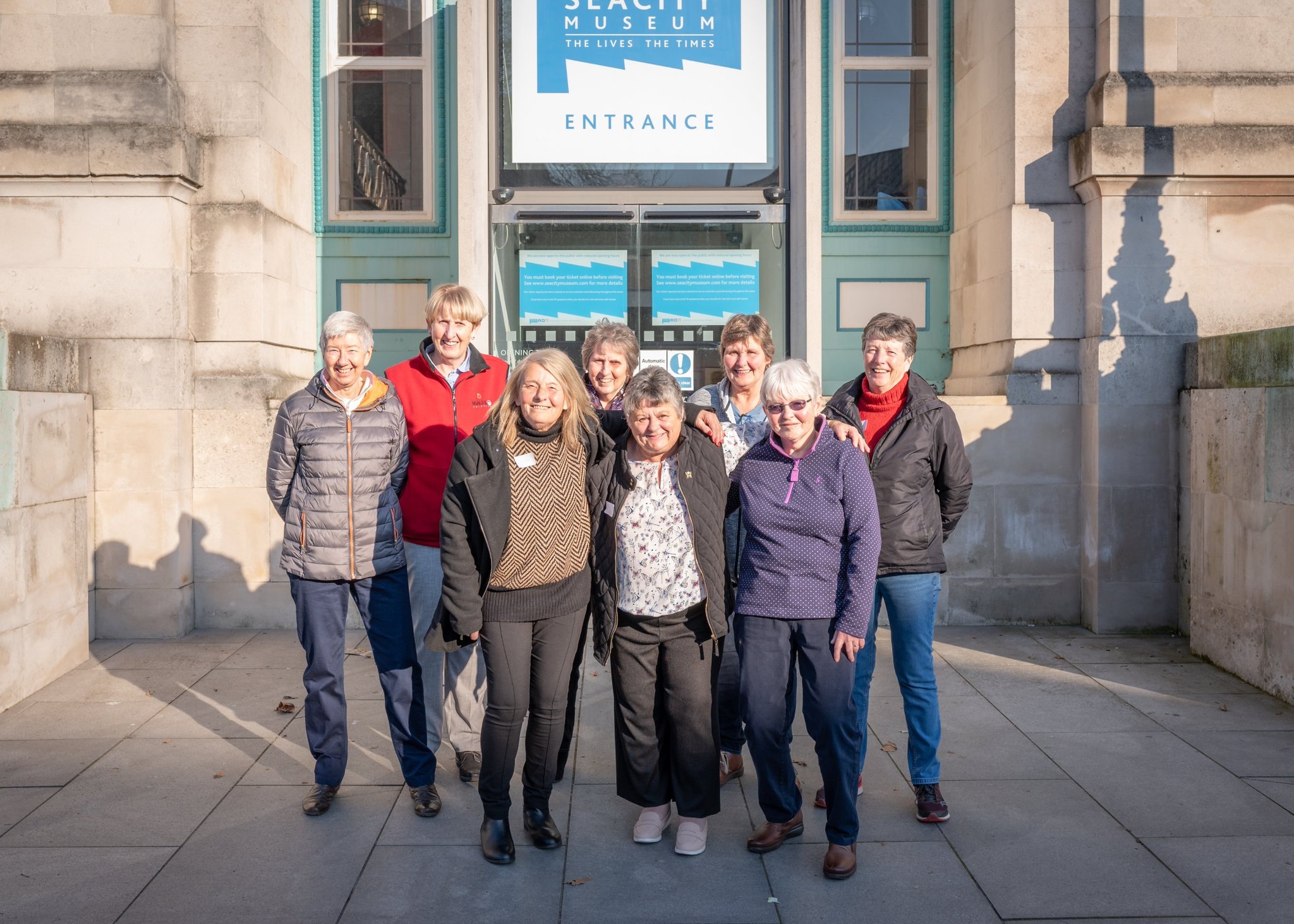 6 – 31 July 2022 across nine Host Cities
Southampton is part of an exciting arts and heritage programme which kicks off tomorrow alongside the UEFA Women's EURO 2022. The programme celebrates and explores the rich history of the women's game. Taking place across nine Host Cities and ten stadia, the cultural offering runs throughout the summer season alongside the tournament which takes place from tomorrow 6 July until the Final at Wembley on 31 July 2022.
In collaboration with the Host Cities – Brighton & Hove, London (Brent and Hounslow), Manchester, Milton Keynes, Rotherham, Sheffield, Trafford and Wigan & Leigh – the arts and heritage programme reveals untold stories of women's football and encourages more people to be inspired by the tournament. Through a series of arts and heritage events, the programme brings the worlds of sport and art together in a national celebration which is set to reach 3 million people.
The arts and heritage programme for the UEFA Women's EURO 2022 tournament is funded by The National Lottery Heritage Fund and Arts Council England, thanks to National Lottery players, and the Host Cities. The programme is managed by The Football Association (FA), the national governing body of football in England. It is the first time the organisation has run such a programme alongside a major tournament, and it hopes to establish female role models for both girls and boys through the arts. It is supported by UEFA, Canal & River Trust, the Mayor of London and the Mayor of Greater Manchester.
Artistic Commissions

The Supercompensation Cycle by Emma Smith is an immersive and participatory artwork that invites the public to warm-up for each match by echoing movements collected from residents across all host cities, presented as a holographic-like film installation and live performance. The work takes inspiration from the players who sustained the women's game during an era when it was declared that football was not something women should do with their bodies. Drawing on historic footage of players' abstract warm up moves, the work celebrates the unheralded expertise of all bodies and how we move. A team of eleven holographic films embedded in specially designed sculptures form an installation that is accompanied by an immersive soundscape created in collaboration between the artist, musician YaYa Bones and sound engineer Daniel Halford. The site is activated by a live performance with local dancers created with choreographer Lorena Randi. The public is invited to join performances of The Supercompensation Cycle in Southampton (10 July).
The Beautiful Game, a new Anthem to celebrate the UEFA Women's EURO 2022 by composer Shirley J. Thompson OBE, and Local Anthems composed with residents and seven emerging female composers from each Host City will be performed in Fan Parties on match days. Developed and recorded with the Royal Philharmonic Orchestra and Host City residents, resources are now available to download for learning, performing and celebrating during the tournament period. A world-first 'Momentum' Challenge is also available online, inviting the public to test their football and rhythm skills by performing a football rhythm to orchestral backing track. During the tournament period, a panel series in collaboration with Sound Voice will feature ten free talks by leading figures from the worlds of music and sport, exploring areas of intersection and opportunity between the two sectors. To book a free ticket to these events, find out when the RPO quintet will be performing in Fan Parties and to download the Anthems and Momentum Challenge, please visit: rpo.co.uk/womens-euro-anthem
Southampton-based artist Deborah Goatley-Birch has designed a new creative resource pack for libraries across the country which is now available to download. The resource pack will enable communities to come together to celebrate and enjoy the UEFA Women's EURO 2022. It includes activities inspired by football fan objects such as rosette and banner making and includes a reading list of books that feature trailblazing sports people. To download the creative resource pack, please visit: thefa.com/competitions/uefa-womens-euro-2022/weuro2022-library-resources
Heritage Projects
Eight outdoor and eight indoor exhibitions are on view across museums and sites in the Host Cities including Brent Museum and Archives, Brighton Museum & Art Gallery, Gunnersbury Park Museum (Hounslow), the National Football Museum, Clifton Park Museum, SeaCity Museum, Trafford Local Studies Centre, and Wigan and Leigh Archives. Each exhibition spotlights the experiences of local footballers in each city which have never been told through portraits, objects and stories that have been gathered for the first time that tell of the resistance and perseverance of women players, as well as their passion for the game. A new heritage website will also be launched in the coming weeks and features 36 memory films from players and their allies who have supported the women's game over the past 65 years.
A fan photography competition is also part of the arts and heritage programme to celebrate the UEFA Women's EURO 2022. The organising team has partnered with Getty Images to give fans an opportunity to capture their experiences of the game. Amateur and student photographers are invited to enter their top five images from the tournament to [email protected][1]. Up to 30 competition entrants will be in for a chance for their images to be included in an online exhibition and be archived at the National Football Museum alongside those of the Getty Photographer in Residence this autumn. Three winners will receive tickets to an international England Women's match in October, along with a Women's EURO goody bag. Getty are also supporting workshops in Host Cities so young people can archive their images of the tournament.
Sporting Heritage are hosting free training courses in preserving football history this September for women's football fans or clubs who have a heritage collection or would like to start one. The first course focuses on collecting, sorting, storing and sharing football stories. The second explores managing collections to support effective audience engagement. For more information visit: eventbrite.co.uk/o/sporting-heritage-16677832293
British Library is asking the public to help preserve football history, by nominating a website to be archived on the UK Web Archive. Collecting websites that are linked to the UEFA Women's EURO 2022, is free to do, and fans are asked to send in sites directly online. To nominate a website, please visit: blogs.bl.uk/webarchive/2022/05/can-you-help-the-uk-web-archive-preserve-football-history.html
For a full outline of the UEFA Women's EURO 2022 arts and heritage programme including events in each Host City, please visit TheFA.com/WEURO2022Arts and TheFA.com/Weuro2022Heritage (live from 6 July)
Author