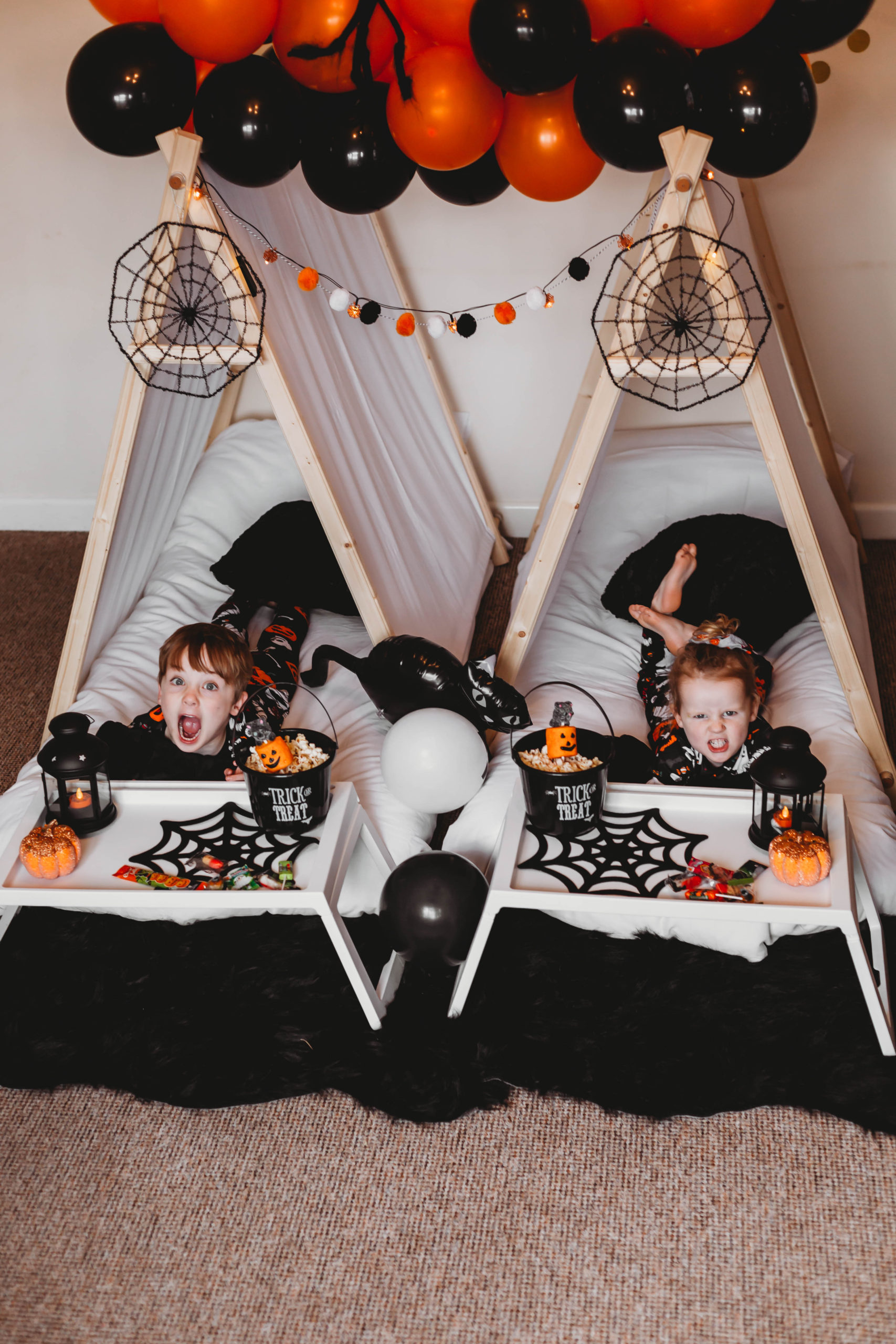 Hey! It's Nicole here again! Iris turned 4 last week and in honour of her turning 4 we arranged to have two teepees from tiny dreams sleepovers and as she had requested a Nightmare Before Christmas/Halloween theme we went for a spooky theme and we were not disappointed.
Charlyanne came round at 1:30pm to set them up in time for their arrival home from school. We chose the day before Iris' birthday so they were not in the way for visitors and that Lucas and Iris got loads of time to lay and chill in them watching films and eating snacks without being disturbed by visitors on Iris' actual birthday, which was a really good plan in the end. She was so professional and came in a mask, in a very cute tiny dreams sleepover top and started the set-up. She was so lovely and chatty and took her shoes off when coming in and out the house, which sounds like a silly thing to mention but we've all had someone come over to look at something in the house, to drop something off or fix something that's walked in with their shoes on and you're just thinking about your poor carpets. I know I sound crazy but with a toddler who eats off the floor, this is something that I instantly notice. Haha. Anyway, they took around an hour and a half to set up the two of them and I was so happy with how they looked.
When I've seen other sleepover companies, they mostly use fabric teepees like the ones you buy for your children bedrooms as dens and they look lovely but Tiny dreams' are handmade wooden ones which are just beautiful. She sets up a single bed mattress in each teepee and they have perfectly white bedding supplied too which she has cleaned at 60 degrees in a laundrette for sanitary reasons so no germ spreading worries, especially with the current situation. She then decorates them and the breakfast tray with a theme. Iris' was spooky, Halloween theme but she has so many different themes from football, to unicorns, to Harry Potter to Christmas ones too, which we've already secured a slot for because we're making Christmas extra special this year.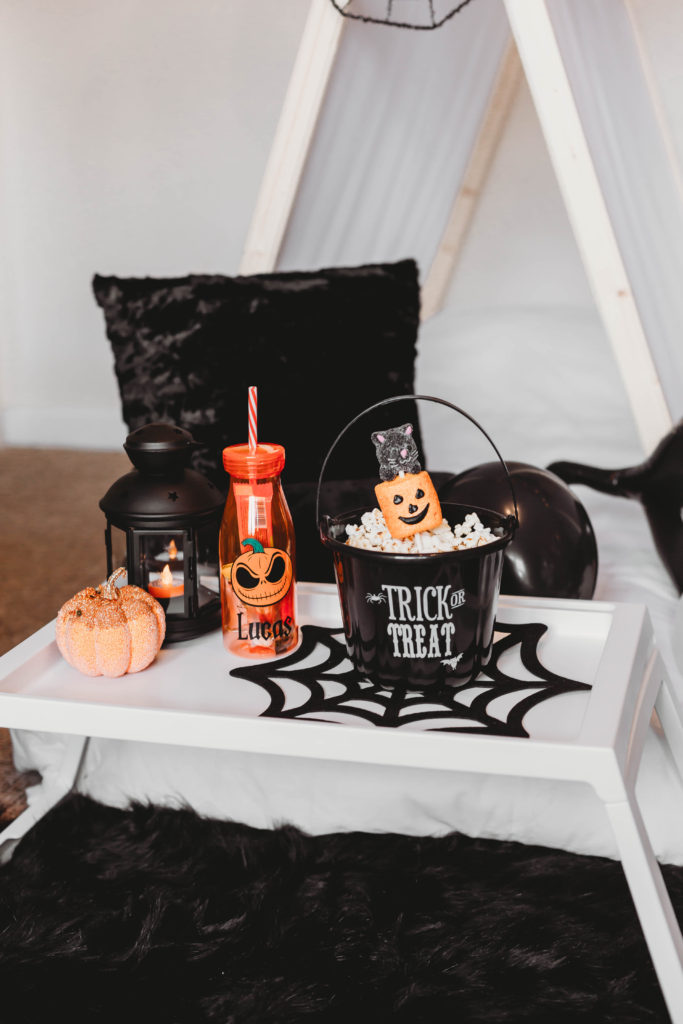 There are a few added extras you can add to your sleepover bundle, like personalised cups, balloon arches, and breakfast supplied. Which I think is a lovely idea. We had the personalised cups, popcorn snacks and balloon arch in orange and black and the personalised cups which I believe she gets made by craftcreate47 on Instagram were such a lovely touch. Lucas had a pumpkin jack skellington and Iris had a witch sillouette and they love them and they can keep them and now they use them daily so will definitely be adding that to the Christmas ones too.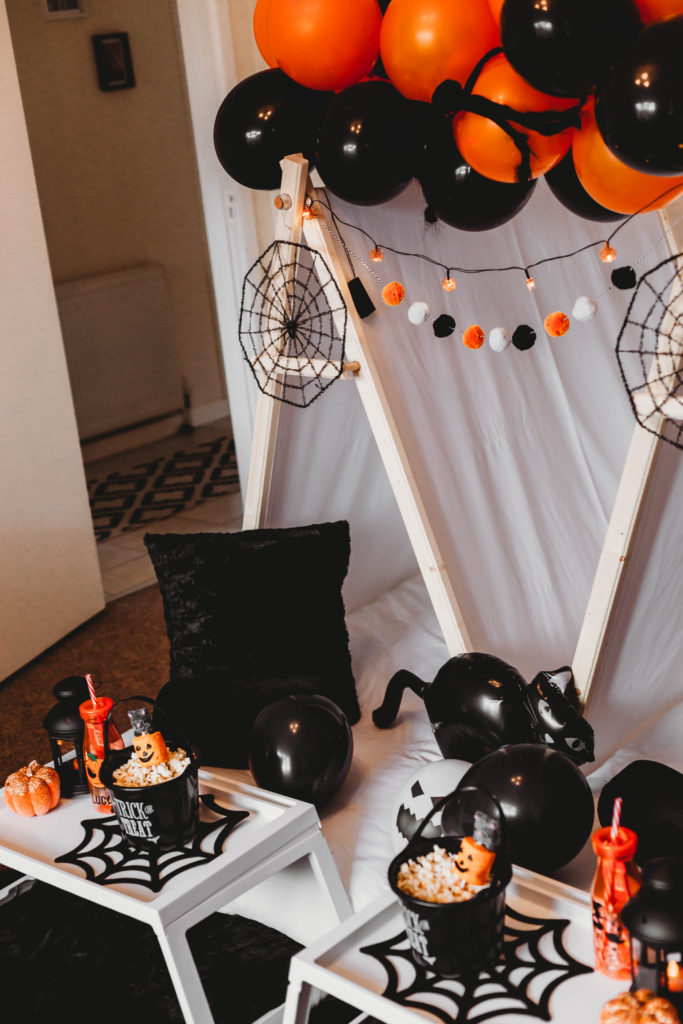 We absolutely loved the teepees, the littles spent all night watching films after films, before falling asleep in a popcorn and sweet coma around 10:30pm, they'd been in them in their matching Halloween pjs since 3:30pm when they got home from school. They slept in their all night and then Iris opened her presents in hers before getting ready for pick up at 11am. We'd asked her to come in the morning due to needing to put a sofa back for visitors but its usually 24 hours later. They require around 2 hours set up usually and range from £60 for a single person sleepover to I think £100 for a sleepover bundle of two, and then extra for added teepees and if you wanted any added extras too. It's a really reasonable price and honestly made Iris' Covid birthday more special. Both Lucas and Iris spent their birthdays in either lockdown or effected by this and Lucas was lucky he had a summer birthday where we had a paddling pool, BBQ, bouncy castle for the 5 of us but with the weather being naff it was harder to think of a way to make Iris' birthday more special and this was perfect and having Lucas as her sleepover buddy made it special too for him to be included. Now, I can't wait for Christmas to have them again and to let them snuggle in their matching pajamas and watch Christmas films all night… on that note I might kick them out and have a sleepover in it with Brad. Trust me, they're perfect for adults too, so if you want a special night with your bestie or boyfriend, etc… then you could totally use these too.
To book yours you can book via her Instagram (@tinydreamssleepovers) or her Facebook (tiny dreams sleepovers)
it's so worth it!
Author