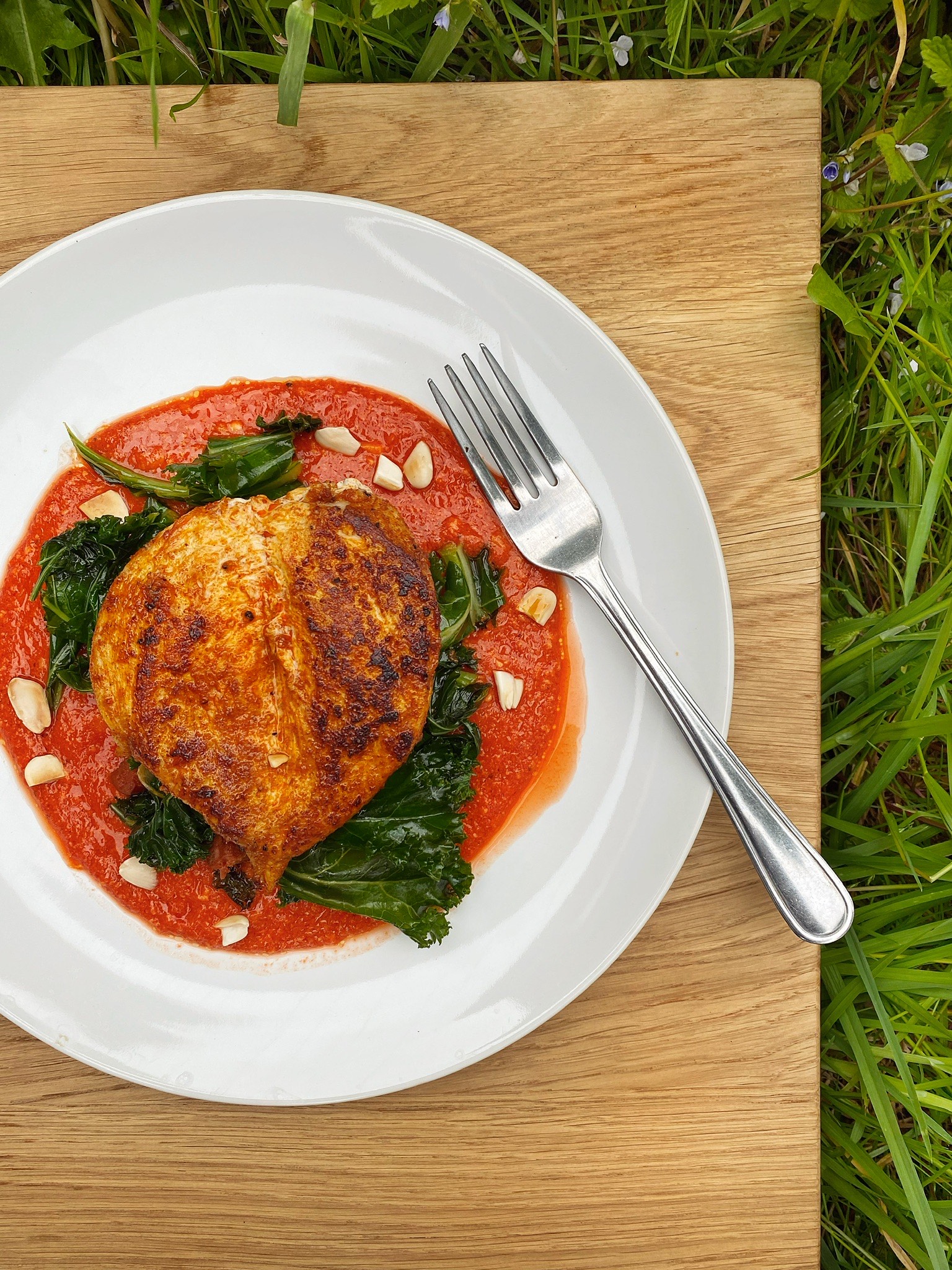 Spicy butterfly chicken breast served with sexy romesco sauce, garlic butter & chorizo. Romesco is traditionally served with fish but it's just as comfortable next to any meat or veg you wanna whack on the bbq this year. I love the contrast of the hot chicken and chorizo against the cold, clean romesco and the bitter little crunch of kale. Smash down this summery little delight & serve with some fancy rice or crusty bread.
.
INGREDIENTS:
•sauce•
1 jar roasted red peppers
1 plum tomato
1 large clove garlic
100g blanched almonds
Sherry/red wine vinegar
1tsp smoked paprika
Olive oil
•chicken•
Smoked paprika
Cayenne pepper
Lemon zest
Everyday seasoning
•sides•
1 bag kale
2 cloves garlic
1 lemon
Butter/df alternative
Rice (use packet rice and add stuff. Life is too short)
.
METHOD:
Toast the almonds in a hot dry pan and set aside to cool. Blitz them with the peppers, tomato, garlic and vinegar. Slowly drizzle in olive oil to make it thick and creamy.
.
Butterfly the chicken breast and add the spices and lemon with olive oil. Leave to marinade for a few hours. Get a griddle or bbq very hot and cook for 8 minutes each side.
.
MASSAGE THE KALE. I know. But just do it. Rub and gently crush the leaves in your hands with olive oil and pull out any tough stems. Sizzle the chorizo in a medium high pan until crispy then add butter and garlic. Sauté then add the kale. Cook for 10 minutes then add the zest and juice of the lemon. Finish with some toasted almonds and a squeeze of fresh lemon and season well. Enjoy 
Check our more recipes from @dining_with_dahli
Author