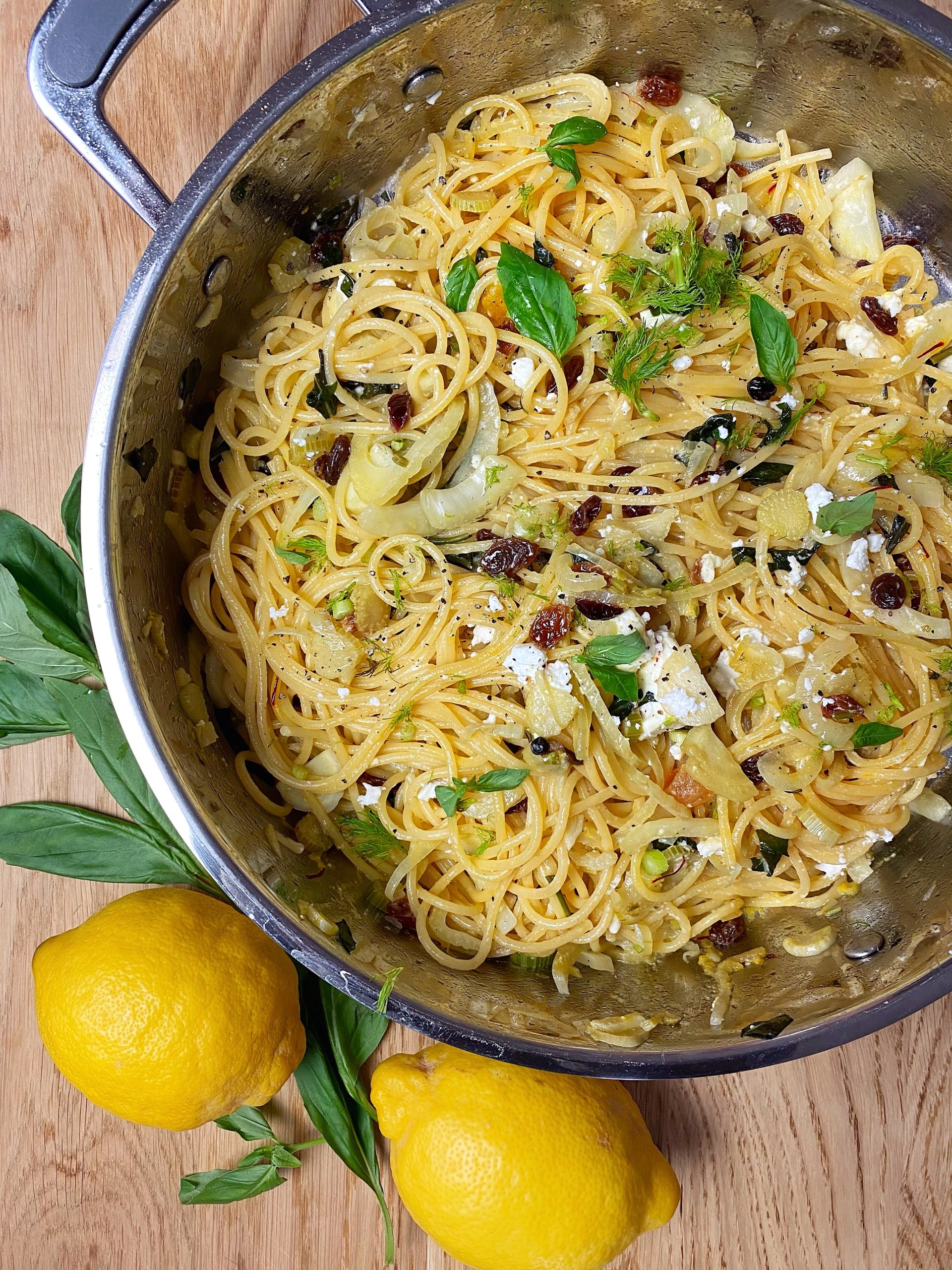 Salty, sweet and seriously aromatic – this bright little pasta dish contains some unholy ingredients (like evil sultanas) but I promise they come together perfectly!
Sautéed garlic and fennel with white wine (all pretty normal so far), wine soaked sultanas, saffron, fresh basil and crumbled feta, finished with a big punch of lemon. How can it be so wrong but so right? Make this on blind trust and you will not be disappointed.
.
INGREDIENTS: 
Spaghetti
1 bulb of fennel finely sliced, fronds reserved
1 clove garlic, finely sliced
1 shallot finely sliced
1 lemon
Handful of fresh basil, chopped
1 large glass dry white wine
Pinch of saffron (grind in a pestle and mortar and steep in cold water for 20 minutes)
Handful of dried sultanas/raisin
1/2 block of feta, crumbled
2tbs butter
.
METHOD:
Heat olive oil in a wide frying pan on medium. Add the onion, garlic, fennel and lemon zest. Sauté until soft (around 10 minutes). Turn up the heat a little and add the sultanas, white wine and saffron. Let the wine bubble and cook off until it's almost completely evaporated. Throw in the butter, basil and fennel fronds. Toss through the cooked pasta and crumble the feta. Give it all a good stir and check for seasoning.
.
Garnish with more fresh basil, black pepper and a little squeeze of lemon. Enjoy! 
Check our more recipes from @dining_with_dahli
Author