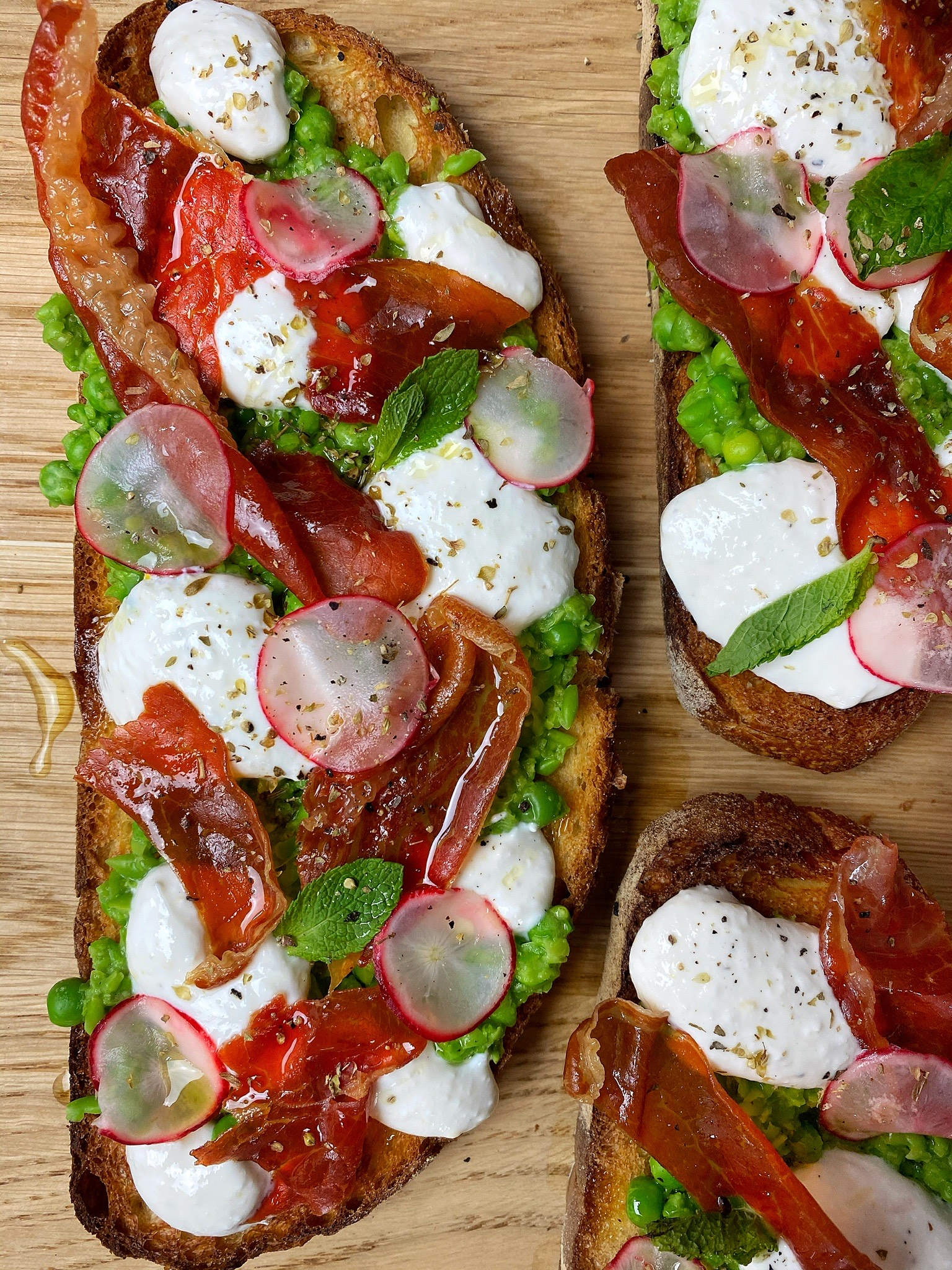 Whipped feta and cottage cheese with lemony, minty crushed petite pois, crispy Parma ham shards and quick pickled radish – all served up on golden toast. Toast is a god tier food and even though the toppings are fancy, this is a quick and delicious recipe that's perfect for a light summer bite.
.
INGREDIENTS:
Crosta & Molica pan pugliese bread
Frozen petit pois (about two handfuls)
3tbs cottage cheese
4tbs feta
1 lemon
A bunch of fresh mint
8 Radishes
2tbs red wine vinegar
2tbs sugar
5 rashers Parma ham
2tbs dried oregano
.
METHOD:
Blitz the feta and cottage cheese with the zest of the whole lemon and the juice from
1/2. Place in the fridge until serving.
Set the oven to 190 and place the Parma ham on a baking sheet. Cook for 12 minutes and leave to cool and crisp up.
.
Bring water to the boil and throw in your peas for one minute. Drain and pulse with a stick blender until you have a varied texture and some whole peas remaining. Season well and add olive oil and finely chopped mint.
.
Slice the radishes very finely on a mandolin. Place in a bowl with the vinegar, salt and sugar and let them sit for about 10 minutes. You can also keep these in a sterilised jar in your fridge for weeks.
.
ASSEMBLE: Toast your bread and layer up your toppings, finishing with a sprinkle of dried oregano, some fresh mint and some good olive oil. 
Check our more recipes from @dining_with_dahli
Author