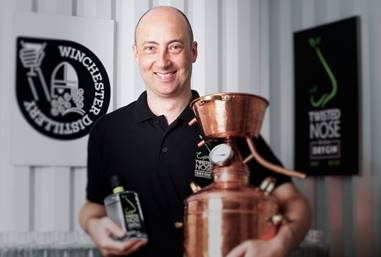 Gin lovers rejoice! The Portsmouth Seafood Festival has announced that Winchester Distillery's Twisted Nose Gin will be the official Gin Partner at the 2018 event, which returns to Gunwharf Quays this summer following the phenomenal success of 2017's inaugural event.
Building upon last year's wide-ranging interest and local participation, this FREE weekend event, taking place on June 30 and July 1, celebrates the city's seafood and ancient fishing heritage.
Launched by Paul Bowler in 2014, Winchester Distillery, based in Old Alresford, is home to hand-crafted premium gins and other spirits, made using traditional methods and local botanicals sourced from the surrounding landscape. Many will be familiar with Winchester Distillery's delicious range of spirits, some of which are seasonal, through their regular presence at Hampshire Farmers' Markets and other food & drink festivals throughout the South of England.
Head Distiller and Founder of Winchester Distillery, Paul Bowler comments: "We are delighted to be a partner of this year's Portsmouth Seafood Festival. Our Twisted Nose Gin, made in Hampshire with locally sourced botanicals such as watercress and lavender is a perfect pairing for fish and seafood.
"Twisted Nose Gin is a herbaceous yet delicately floral spirit with soft sweet citrus notes and however it is enjoyed, whether neat, with tonic over ice or in a cocktail, complements a range of seafood so supporting the Portsmouth Seafood Festival, which celebrates local produce, seemed the perfect fit."
John Pryde, Co-Founding Partner & Organiser of Portsmouth Seafood Festival says, "We are absolutely thrilled to welcome Winchester Distillery to the Portsmouth Seafood Festival this year as our official Gin Partner. Having local brands on board to celebrate and support the event is vital for us. We look forward to visitors enjoying the range of gins and spirits they have including the Twisted Nose Gin, which goes hand in hand with the array of delicious seafood on offer over the weekend."
Open between 10am to 8pm Saturday 30th June and 10am to 7pm Sunday 1st July, The Portsmouth Seafood Festival will showcase the Solent's finest cuisine, feature local seafood chefs in action and provide live performances from some of Portsmouth's up and coming music talent.
Author