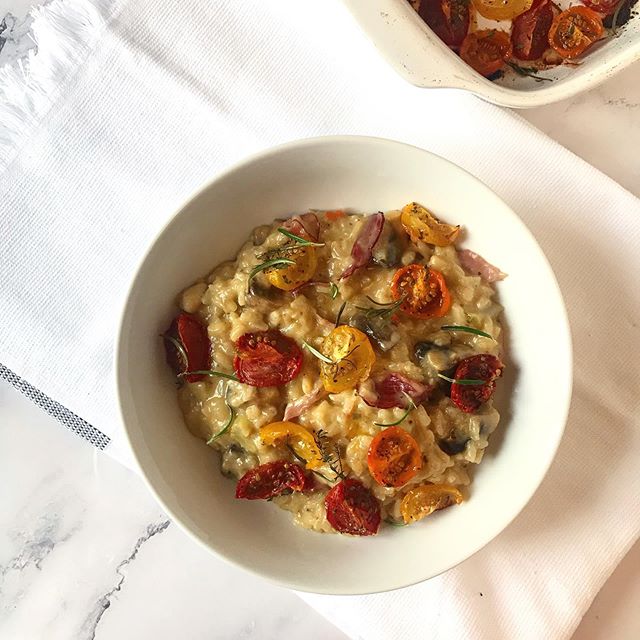 Risotto is such an easy dish to make and you really can add anything you like! It just takes a bit of patience and stirring!
The creaminess of this risotto works so well with the salty cured ham, and a pop of sweetness from the mixed tomatoes.
Ingredients:
– risotto rice (use packet guidelines for portion size per person)
– two slices of a cured ham of your choice
– any cherry tomatoes
– mixed dry herbs
– 1 stick of celery
– 1 garlic clove
– 1 x 125ml glass of white wine (and more to drink 😊)
– 25g butter
– salt and pepper
– 30g of the cheese of your choice
– stock cube of your choice
– approx. 550ml of water
Recipe:
– Pre heat the oven to 200 degrees
– Chop the cherry tomatoes in half and add to a roasting tray with mixed herbs and oil coating them
– Put in the oven for around 25 minutes
– After ten minutes of the tomato's being in the oven, start the risotto base
– Chop celery into small chunks and garlic into very small pieces
– Get a large pan on a medium heat and add a table spoon of olive oil and the celery and garlic
– Cook for a few minutes until the celery had softened slightly and add the butter and S&P
– When the butter has melted add the risotto rice and stir together
– Add the glass of wine to the pan and turn the heat up slightly, meanwhile add boiling water to the stock cube in a separate jug
– Once the wine has cooked away gradually add a ladle of the stock at a time. Add each ladle after all the moisture from the last is sucked up by the rice
– Repeat this step for around 15 minutes, adding stock gradually and continuously stirring
– Add your chopped mushrooms after around 5minuets
– Once the rice is cooked you can add your chopped slices of ham and cheese
– Turn down onto a low heat and stir everything in together until it's oozing and creamy!
– Then take your tomatoes out of the oven, they should look juicy and slightly caught and roasted around the edges!
– Serve your risotto into bowls or even a big platter for the table!
– Add the cherry tomatoes on the top for a pop of color and the most amazing sweetness (be careful they will be hot!)
– Pour your favourite glass of wine and enjoy!
See more of our recipes here: https://southamptonfocus.co.uk/category/food-drink/?swcfpc=1
Tag us in your photos!
Recipe by: https://www.instagram.com/lauryns_kitchen/
Author