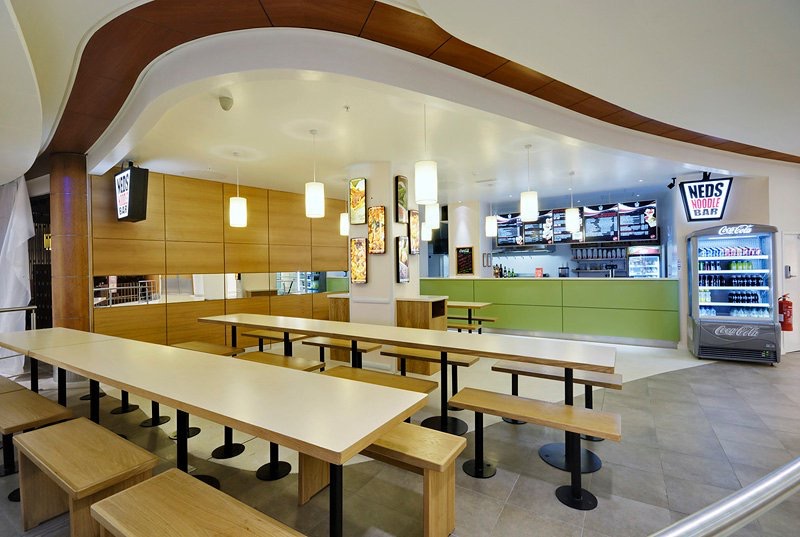 Neds Noodle Bar retail concept debuts in Southampton with an inaugural Marlands Shopping Centre location grand opening in early April.
Neds Noodle Bar, the legendary London noodle brand, announces the debut of its new retail concept in Southampton with the opening of the Neds Noodle Bar store in Southampton's Marlands Shopping Centre. Located at Unit 1, Civic Centre Road, Marlands Shopping Centre (upstairs), SO14 7SJ and open from 10am – 10.30pm. The store will feature the entire Neds Noodle Bar offering, available as dine in, take out or delivery, featuring Neds Noodle Boxes crammed with noodles, filling, sauce and veggies, a variety of starters including Gyoza and Sizzling Calamari Strips as well as Noodle Soups, Rice, Salads, Kids Boxes and Desserts.
The store is set within a timeless, welcoming environment with natural colours and finishes and featuring a brightly lit, open-plan kitchen with dishes prepared within eyesight. Neds Noodle Bar has taken one of the nation's favourite foods and made it healthier, serving fresh, healthy noodle and rice dishes with no MSG or GM.
News of Neds Noodle Bar's arrival at the shopping centre was met with delight by shoppers.
Franchise partner Elenty Fernandez said: "Since Chinese and Japanese food became popular in America in the 1960's, the world has been hungry for noodles. Southampton has been crying out for a healthy noodle place for a while and early interest in Neds Noodle Bar bodes well. Born out of London and with a huge following there, we now can't wait for the people of Southampton to try the delicious Neds Noodle Boxes – with so many varieties to try, including vegetarian and vegan options."
Neds Noodle Bar was recently nominated for the 'best noodles in the UK' at the UK Golden Chopsticks Awards 2019 and harnesses the growing popularity of Chinese, Japanese, Thai, Korean, Malaysian and Vietnamese flavours as it focuses on a global growth strategy to become the world's favourite noodle quick service restaurant.
Neds Noodle Bar has a style and simplicity of its own, serving up more than three million fresh, healthy delicious rice and noodles dishes and delicious sides per year.
Author