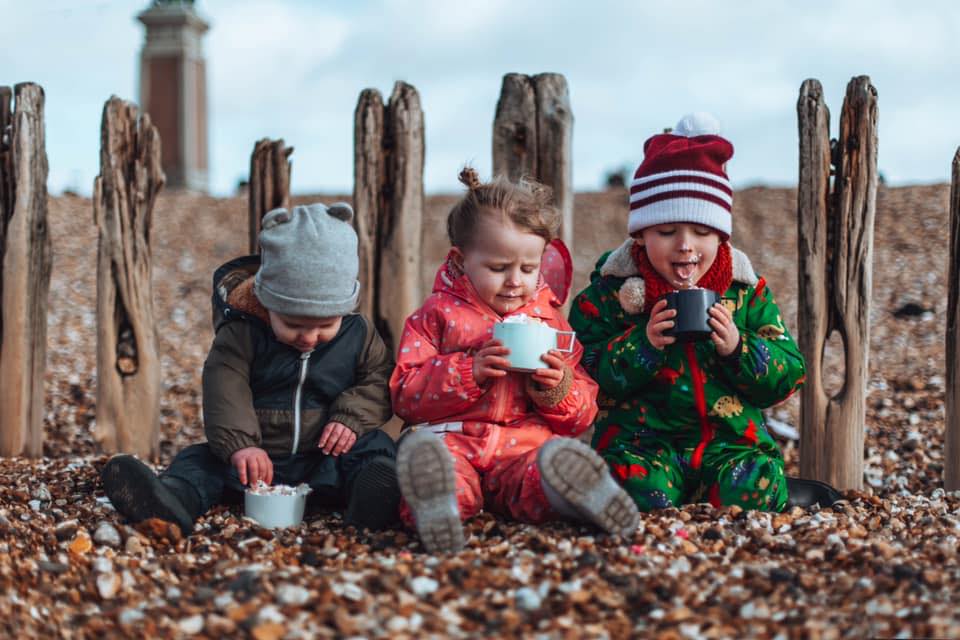 Covid has a lot to answer for and has taken away a lot of our freedom but one thing we'll always be able to continue to do is to go outside, even if it does end up being just an hour a day again. So with that in mind one thing we should be thinking about and trying to do is keeping ourself sane, thinking about our mental health, exercise, fresh air and helping the children blow away the cobwebs and burn off some of that energy, some.
During the pandemic there's lots of rules and regulations but going outside is still okay, so here's a simple list of ideas of things you can do with your children during the autumn, with the weather due a change and that's breaching no rules, even if we go back into lockdown. Ideas for indoor fun and outdoor fun.
1. A welly walk Put on waterproofs, put on wellies and go for a welly walk, it can be around your block. Children don't usually care about the rain and there's no inappropriate weather, just inappropriate clothing. It's something that everyone can do and even just 10-20 minutes up and down your road, splashing in puddles and then home for a hot chocolate, fresh pyjamas and a movie under the duvet. They'll remember those times they could be free even in the rain.
2. A Woodland Walk If you drive, hop in the car to Victoria Country park, Itchen Valley or even just your local woods. There's Donkey Common in Thornhill, Deep Dene in Bitterne, West End Copse in West End (haha), there's usually a sheltered woodland walk super local or a quick car journey away to shelter in your winter bobble hats and there's usually a protection from the rain unless it's torrential too. Get them to find acorns, chestnuts, conkers, orange leaves, make a little scavenger hunt.
3. Pickwell Farm Pumpkin picking is coming and unless they close this is something that should be super fun and with all the regulations in place we'll probably be spending more time at home so what a great way to support a local, small farm shop and you can do so much with pumpkins. You can bake pumpkin pie, pumpkin loaf, make your own pumpkin spiced syrup and carve them or paint them too… or in my case they also make fantastic decor too.
4.The Beach There are currently no restrictions on travel distances so a trip to your local shore or beach is perfect at this time of year. The chilly beach walks are some of my favourites and the beaches are rarely busy during the colder weather too so great for social distancing. I also find that stone throwing or having a hot chocolate bought from home in a flask so if you want to save money or the local shops and cafes around the beach are shut you still get a super tasty hot chocolate and the littles think its wonderful.
5. Have a Party In the garden or inside. Throw a party for no reason, just your household. Purchase some cheap beige party food and put on some music and dance. If you wanted to you could buy some party wear from Meri Meri, Ginger Ray, Amazon, Poundland, etc… or you could go super simple. Iceland do super cheap £1 bags of party food so should only cost a minimum of £5 and the littles will love every moment. A simple and fun way. We did it for Lucas' birthday and will be doing the same for Iris' but even at easter we just threw a party in the garden and we some how managed to gain a bouncy castle years ago and the littles loved every moment. Honestly party music, beige food and make some party hats with colouring pencils, paper or card and sellotape!
6. Pyjama movie afternoon Put on your favourite pyjamas, grab some popcorn and put on a spooky film or any film really. With Netflix and Disney plus being super cheap and easy access, both I believe with free trials if you haven't already signed up before and its a simple way to have a chilled afternoon too. This is also great for those poorly days with colds or if you have to self isolate.
7. Make a halloween grotto Poundland, b&m, home bargains, Homesense, supermarkets, they're all selling halloween decorations and with trick or treating most likely off the cards this year this could be a super fun way. My house is already like Jack Skellingtons bedroom but with so many options starting cheap to a little more pricey depending where you go a little halloween grotto is a great idea for a fun afternoon and your house all just look cute too. This could also tie in with the pyjama movie afternoon too.
8. Fairy Garden or Fairy Walk If you have a garden, balcony or if you're in a flat with no secure outdoor space use a plant pot, make a fairy door (or buy a DIY kit one) go on a walk and find little things to add to it and make a little fairy area in your garden, balcony or in a plant pot. This also could be used as a great outdoor activity. We go on fairy hunts a lot, we look for mushrooms, we look for fairy cups (the bits off acorns) pinecones, we check the bottoms of trees and the littles find such fun in that and its free.
9. Potion Making With flowers dying off and lots of leaves, acorns, pinecones and other autumnal nature on the ground, this is perfect for potion making. All you need is a jam jar, water and imagination and you littles can find whatever they fancy to pop in the jar and if you have some add some glitter, give it a shake with the jam jar lid on and they've made their own potion.
10. Bake some cakes Grab some £1 eggs from Iceland and a cupcake kit from the poundshop and for £2 you have an afternoon activity and if you're feeling brave, make some from scratch. lots of places have halloween sprinkles at the moment too.
What are you planning on doing with your children over the next few months before the Christmas countdown?
Tag us in your photos! @southamptonfocus
Written by Nicole: @thelittlestdarlings
Author